Through a generous gift from the Faucett Catalyst Fund, we have been able to set up the Faucett Fellowship to provide financial assistance to UCLA doctoral students who are interested in gaining practical field epidemiology experience and training in the Democratic Republic of the Congo (DRC).
Nicole A. Hoff, M.P.H., Ph.D., UCLA Fielding School of Public Health

The Faucett Fellowship has been a prestigious award which has allowed me to live, study and participate on multiple projects based in the Democratic Republic of Congo, and gain invaluable field experience for an extended period of time. Before starting my Doctoral degree at UCLA Fielding School of Public Health, I had limited opportunities for long term international experiences which included hands on work in a collaborative environment. I have now had the opportunity under the Faucett Fellowship and the guidance of my Doctoral advisor, Dr. Anne Rimoin, to gain hands-on experience with immense benefits, which includes living abroad in a low income country with limited resources, networking with experienced public health leaders (both national and international persons), participation in consultancies with large organizations including WHO and UNCIEF, and experience working with data and applying epidemiologic methods learned during course work. It provided me with the time and flexibility necessary to develop a dynamic dissertation topic, not only important for completing my own degree objectives, but also a project which could have a major impact on disease surveillance methods and data compilation and analysis within the country. I have had the time to foster meaningful relationships with others in the public health field, including those within the country's Ministry of Health, which allowed me unparalleled access to data and information at a country level with the support of those in the programs to succeed. The support and generosity from the Faucett Fellowship have been and will continue to play a central role in the completion of my doctoral dissertation and experiences in the field necessary for future employment. With this fellowship, I have the gained confidence, knowledge, skills and soon a completed degree which will make me a sought after candidate in the field of international public health with a focus on epidemiology of emerging infectious diseases.

Reena H. Doshi, M.P.H., Ph.D., UCLA Fielding School of Public Health

Through the generous support of the Faucet Family Foundation fellowship, I have had the opportunity to obtain hands on epidemiologic field experience in a resource-low setting. Through my doctoral studies, I have gained a superior methodological foundation of epidemiological skills, and in DRC, I have had the opportunity to apply these skills in my own dissertation research. Being a Faucett fellow in DRC, has given me the opportunity to work closely with world-renowned infectious diseases experts and other global health professionals, while providing technical assistance to the Ministry of Health, UNICEF, and the World Health Organization. Unlike other short-term fellowships, my long-term experience in DRC has afforded me the ability to see a project from start to finish, from the grant-writing phase to the data analyses. This fellowship has enabled me to develop the knowledge and skills to work as a successful field epidemiologist in resource-limited countries and will be invaluable in my future career as a global public health practitioner.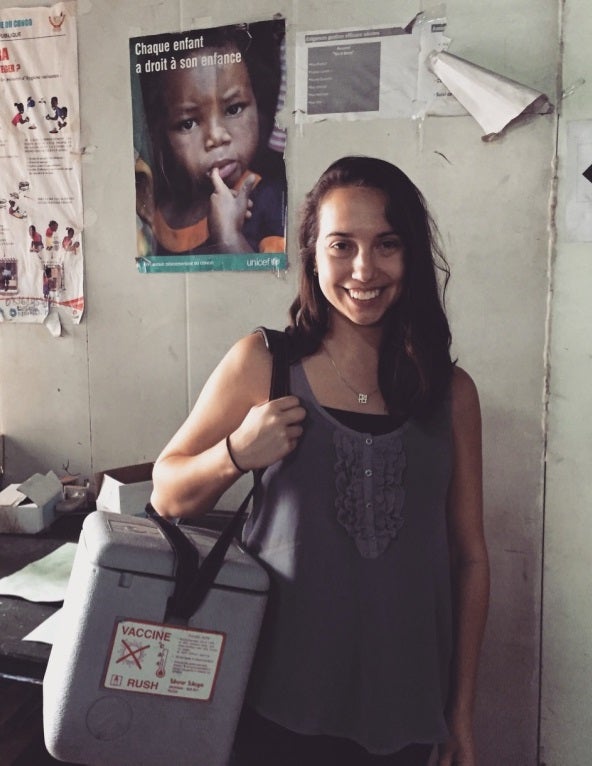 Adva Gadoth, M.P.H., Ph.D. Candidate, UCLA Fielding School of Public Health

The Faucet Family Foundation Fellowship has allowed me a once in a lifetime opportunity to build my academic epidemiologic training alongside novel fieldwork and apply classroom-gained knowledge to real world public health problems. Working in the complicated, exciting, and logistically challenging environment of the DRC has provided me with numerous opportunities to grow my analytic and scientific skillset in order to address pressing matters of infectious disease emergence. Thanks to multiple long-term in-country experiences that were made possible through this fellowship, I have been able to exchange ideas with local and international health partners, gain a first-hand understanding of the Congolese social and cultural contexts in which health interventions take place, and dig deep roots in the DRC by collaborating with a diverse set of local and international stakeholders. The fellowship has also allowed me the fortune of seeing an epidemiologic research project through from start to finish, and made primary data collection possible as part of my dissertation research. The Faucett Fellowship has been an integral part of my professional career development and has helped train me to continue working as an epidemiologist in some of the most resource-strapped and remote parts of the world.
Hayley Ashbaugh, M.P.H., D.V.M., Ph.D., UCLA Fielding School of Public Health


The Faucett Fellowship provided the critical experience of putting my global health knowledge into practice. During my time in DRC, I was fortunate enough to work on a number of projects within our lab. One was a project to eliminate African Trypanosomiasis, or sleeping sickness, which is a parasitic disease in Central Africa. Since DRC has not had a national census since 1984, my role in this project was to visit villages and collect population data. This was crucial to the project because, even with accurate case numbers for a given disease, without baseline population data telling us the proportion of people out of the total population affected by a disease, it is very difficult to assess whether or not a public health program is working to reduce overall infections.

As I hope is evident, even the best preparations at home will not replace seeing and experiencing global health up close. Without the generosity of the Faucett Family Foundation in providing the opportunity to spend the summer in DRC, I could not have participated in this important work and significantly grown as an epidemiologist and public health practitioner.

Alvan Cheng, M.P.H., Ph.D. candidate, UCLA Fielding School of Public Health


Thanks to the generous support provided by the Faucett Family Foundation Fellowship, I had the opportunity to gain practical epidemiologic field experience in the Democratic Republic of the Congo. Throughout the fellowship, I learned what it takes to conduct a study in a low-resource setting and was able to apply the epidemiologic methods I had learned in my studies. As part of the fellowship, I was provided with the opportunity to collaborate with several infectious disease experts and global health professionals from around the world and to work with organizations such as the World Health Organization, the Center for Disease Control and Prevention, and the country's Ministry of Health. The Faucett Family Foundation Fellowship has allowed me to develop the knowledge and skills necessary to work successfully as a field epidemiologist in low-resource, developing countries and will be invaluable in my career in emerging infectious diseases.

About the Faucett Fellowship
The purpose of the Faucett Fellowship is to promote global health by providing financial assistance to public health doctoral students who would like to gain practical field epidemiology experience in the Democratic Republic of Congo.
Eligible students must be enrolled at the UCLA Fielding School of Public Health and must submit a project proposal that addresses a specific public health issue and outline a work plan to address it. Projects should be approximately 6 months in length. Each Fellowship ofup to $25,000 can be used to support student travel costs, including airfare, room and board, travel health preparation, travel insurance and/or supplies for a particular global health project. The Fellowship cannot be used to cover tuition costs, school supplies, conference attendance or other non-project related expenses. Under certain circumstances, fellowships may be renewed for an additional 6-month period.
Applications will be scored based on the strength of the proposal, the relevance to public health and the applicant's academic and career goals, the significance to the host organization and the commitment by the host organization supervisor and/or UCLA faculty mentor. Preference will be given to candidates who have at least some foreign language capability in French and who will have advanced to candidacy prior to departure.
Faucett Fellowship